This review was originally published on 15 November 1999 at the now-defunct 3DGaming.net
---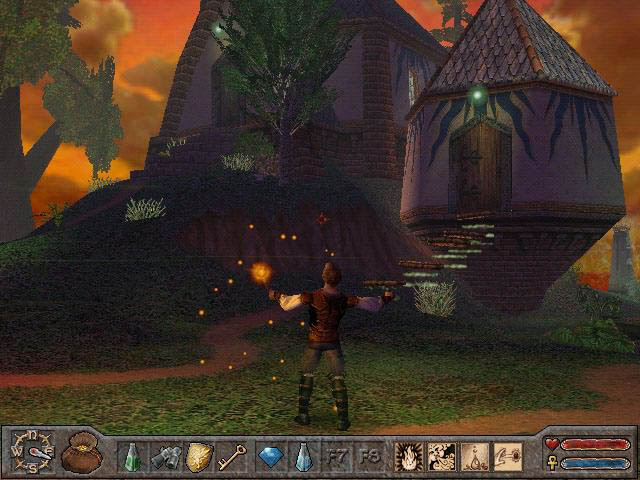 Have you ever awoken from a restless night of sleep sweating, feeling lost and filled with a desire to go beyond the boundaries of life? Have you ever wanted to be a hero? Has the desire to pass through the halls of Lord British's castle ever crossed your mind? If it has, then the Ultima series is the game series to try. Unlike other role playing games such as Baldur's Gate, Fallout, Final Fantasy, and the myriad online rpgs, Lord British's Ultima games have always held firm to the idea that in order for a game to succeed, the player must care about the character he or she is investing such a great deal of time in.
So could Ultima IX change the way role-playing games are crafted in today's market? That's a tough call to make. Lord British is renown for having a love of depth and history in his games, as well as involving the player and making them care. If British were ever to have a career high, IX looks to be it. If there's something role-playing games today lack, it's a system of morals. Of course, that's just one of many things rpgs tend to lack, no thanks to games such as Diablo that have dropped rpgs to an inferior level. But nonetheless, they shall survive.
As someone who's wasted one too many hours in Baldur's Gate, perhaps only three times did I truly care about the repercussions my actions would have. I'm one of those nice folk who have a thing called "integrity", so when someone asks me if I found any important remains on a corpse that a family would like, regardless of whether or not it's worth money to me, I return it. This, in a pinch, is the type of drive I've felt has driven Richard Garriott, aka Lord British's games in the past. That and annoying jump features.

It's been years since Ultima 8: Pagan (hey, my irc nick!) and without a doubt, anxiety has been developing on Garriott's newest game. Understandably so in the wake of Tiberian Sun. Fortunately, Garriott aims to please, and if Ultima IX: Ascension is everything that he promises it shall be, then I'd begin telling your loved ones that you'll be gone for a few weeks.
So what's Ultima about? If you haven't been living under a rock since 1915 then you'll know it's the granddaddy of role playing games. Ultima IX is the 9th, the final trilogy of trilogies, or something like that. It's also the one that in Garriott's own words, is a culmination of 20 years of work on the Ultima series.
Graphics
Ultima IX is one a smack dab new engine built from the ground up to bring the avatar (that guy decked out in armor that you control) to full three-dimensional glory. How does it compare to the likes of UT and Q3 for competition of 'prettiest game ever'? Well it certainly is a ram hog. British himself said that 128 mb of ram is ideal on this bad boy.
From what I've heard on the newsgroups and in updates about the game, the fans of the Ultima series are in an uproar over the fact that for the first time ever in a Ultima game, it's not top down as all the rest were. The most prominent fear is 'Tomb Raider Disease.' Well unless the avatar suddenly develops some boobies and uh, you know what else (which btw would be really cool) then I don't think we have anything to fear.

After all, what's wrong with a fully 3D Britannia? Personally I think The Avatar is about to give Lara a big swift kick to the groin with the imminent release of Ultima IX. She deserves it to. Have you played the TR 4 demo? That demo sucks so much!
Regardless, 3D is the future folks, Neverwinter Nights is evidence of that. The game will also be sporting full 16-bit color. Aha. No 32 bit for you! Mind you, this is not EverQuest. This slaps EQ like a good monkey. While I don't know what the polygon count is, in this case, the world looks too friggin pretty to matter to me.

If you've ever played EverQuest then you're most likely familiar with the ever annoying zones that pop up at the most inopportune of times. To say the least, EverQuest is to Tomb Raider what Asheron's Call is to Ultima IX. How's that for a comparison ? The college boards would be impressed I bet! College, here I come! Hah. I made a funny. Lord British must have heard that load times pissed me off, so he decided to make the world a continuous world.
Storyline and the power of the verb
Without revealing too much about the game, let's just say that it involves Santa, a double-barreled shotgun and a bottle of scotch whiskey. Actually it involves the avatar's return to Britannia one last time. This isn't the Britannia that we all saw in Ultima VIII though, as things have changed, and not for the better.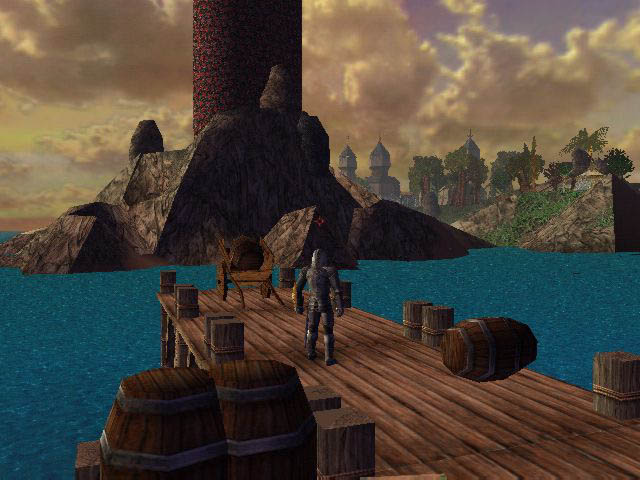 Twenty years have passed since the Avatar passed through the land of Britannia. Upon being called back for one last adventure, the player (you!) discovers that eight large pillars have risen from the ground all across Britannia. Somehow these pillars are negatively affecting the populace of Britannia, warping everyone and bringing out the bad side of Britannia. Welcome to the dark side of the force baby.

Of course, the guardian is back for one last dance. But this time he doesn't want to take over Britannia, this time his intent is much more unpleasant. Is the complete and utter destruction of Britannia epic enough for you? That's what awaits the Avatar. Save the world, restore the virtues to all of Britannia, and ensure that Britannia can survive without your presence, since this is the avatar's final quest, the adventure to top all adventures.
The world of Britannia has been rendered in a fully 3d Victorian era design, just the way British likes it (I heard he likes to be on top, but hey). Along the way you'll run into old chums like Iolo the Fletcher, Shamino the Ranger (am I the only one that thinks they sound like soap products?) Katrina the Shepherdess (good for more than sheep), Geoffrey the Knight and many more.
Control System and the Perils of the Space key
Afraid Garrett fell into Diablo Central? Fear not my rpg loving freaks, Ultima IX is not going to be a hack and slash clone. That title is left for Darkstone. The combat consists of simple attacks that progress to round house attacks and a golf ball type swing that is gained as experience and wisdom are gained. Jumping has also been fixed (Ultima VIII fans know a great deal about this issue).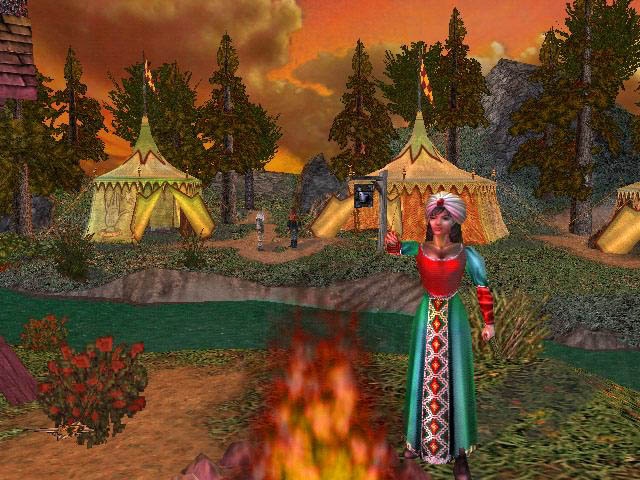 Easy access is also provided to the spell book and map. Just like Baldur's Gate, when you wear something, you'll see it too. The mouse icon thingy also changes to indicate what the item the player is looking at. The jump system works now too. Merely point the icon to where you want to jump, and then press the jump key (I'm a whore and use the space bar for such an important task)

Also be on the lookout for the new 12-slot tool kit belt, not unlike the kind Tim Allen wore in Home Improvement. Just like Asheron's Call, the first slot is '1', the second is'2' and so on. All the options are easily adjustable, like a good paid of pants. The one factor that has me drooling over Ultima IX like my new cashmere sweater ($100 for a sweater. What is the world coming to?) is the system of virtues, which basically determines whether you're a wuss, or a real man.
Well not quite, it's actually a system that balances the players' values with consequences of actions and through that determines how the character advances in skill. If anything it's one of the smartest additions to role playing games I've yet seen, as it encourages the player to care about the world more and to become more involved with the character and the npcs.
Cinematics
The cinematics are also damn amazing. If you've downloaded any of the myriad 4 million Mb files you'll know that the videos in Ultima IX are dialed pieces of work that would make 3d modelers proud.
Multiplayer
Do we even need to touch this issue? Five years was spent on the single player alone, and nearly half way through the entire design was scrapped. Adding multiplayer would turn this into a Daikatana scenario, which is the last thing the gaming world needs. At least British has cool hair.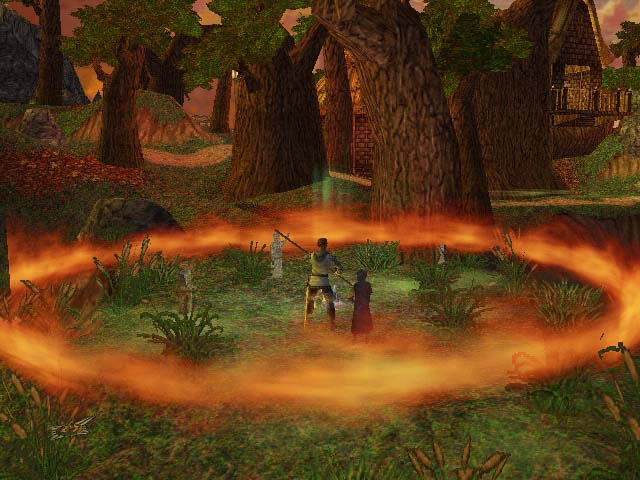 Interface
There are three types of interfaces in my experience. Interface 1 is well designed, clearly shows what can be placed and stored where, presents the user with a myriad amount of options, and is basically placed on a pedestal by players. I place Baldur's Gate on the pedestal, as well as Asheron's Call.

Interface 2 is the unused one. If you've ever played Tomb Raider or MDK then you'll know what I mean. They're the nonexistent arcade interfaces that matter about as much as how many sheep Sweet Dick gets the funk with each night.

Interface 3 is the one I've oh so tastefully named 'Pure Crap.' Examples of 'Pure Crap' include the Nerf Arena blaster demo and Blackstone Chronicles. They're the type of interface that causes my body to systematically reject the game. The feeling is quite close to having a stomach pumped.

What category does Ultima IX fall under? Well the interface from what I currently understand is fairly simple. Right click to move. Left click to interact. The cursor floating mysteriously in front of the avatar changes shades to determine where the avatar may jump. If the icon is green, the location can be jumped to, red means you've got about as much chance as Tonya Harding does of ever seeing Olympic glory
Music
All I have are a whopping load of midis I found from Ultima 1-8 and two mod files that are just above the crap we know as midi. I don't recall hearing any music in the E3 press junket that Garriott displayed in a crowded sweaty room. (Note to readers: wearing a leather cap in Los Angeles is hazardous to your health.) Hopefully the demo will present me with new music to add to my video game music collection, which I'll have you know I'm very proud of.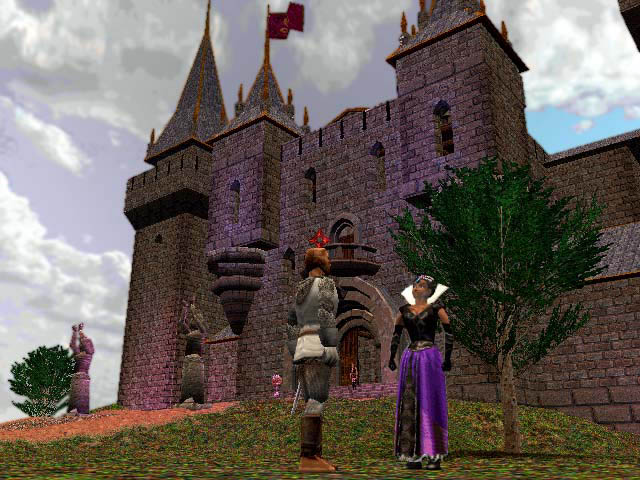 Conclusions from sedation
This is the section where I get to talk about what I think about Ultima IX based upon what I've seen up until this point. Well first I want Lord British nudered for releasing so many large videos but not a single mp3 of music. Ultima IX: Ascension. It can bake a cake. It gives amazing hair cuts, and it's fat free. It's Lord British in a brand new way! And it's dishwasher safe!

In all honesty folks, I don't see how this game could not succeed. It just looks too damn impressive not to be successful. If the storyline is consistent, the music well written, characters fleshed out and three dimensional, then I don't see this game not succeeding. It's just not within my realm of understanding to imagine how this game could fail.

But then again, I'm an eternal optimist who can't wait to get his hands on Daikatana. Trust in John Romero and Richard Garriott and they shall deliver. Hey, if Ray Liotta can play Shoeless Joe Jackson, then Richard Garriott can take five years to release the follow-up to Ultima VIII. The question remaining in my mind is how well this will stack up against the likes of Baldur's Gate II and Final Fantasy VIII. Only time, the demo and final shipping version will tell. And remember, when it Rainz, it pours…
The Goods
Quick Peek: You are the mighty (aren't they all?) Avatar, called to return to the land of Britannia to save the land from the Guardian (I thought guardians were supposed to protect people, not hurt em) and restore the eight virtues to the land of Britannia (open a portal to Woodstock circa : 1963).
Release Date: Imminent. The week of November 23, 1999 is my guess.